Tibetan Buddhist Meditation Teacher Training – Level 1 Certification
March 1 – April 19, 2023
Wednesdays, 7:00 – 8:30 PM MST
In-Person & Zoom
Tuition: $195 (Repeat Students $95)
Includes LIFETIME ACCESS to Class Recordings*
If you have taken the Tibetan Buddhist Meditation Foundations Certificate course in the Fall of 2022, you are eligible to take this course at the repeat price of $95 CAD. Please contact the Office to confirm your eligibility and to register with this discounted rate.
Office Email: [email protected]
Office Phone: (780) 479 0014
Gaden Samten Ling is pleased to offer again the certification course taught by Spiritual Director, Kushok Lobsang Dhamchoe. Students who complete this course will receive a Certificate of Completion signed by Kushok.
* PLEASE NOTE: Only registered students will receive class recordings. Society Members must be registered in this course in order to receive recordings.
COURSE DESCRIPTION: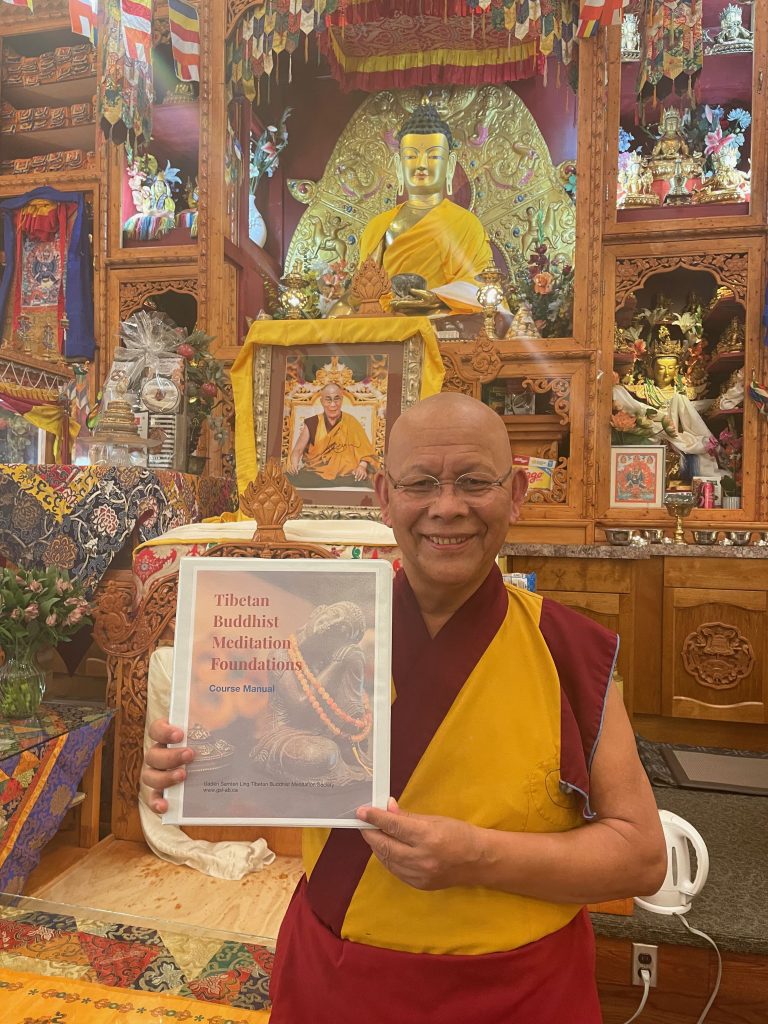 Tibetan Buddhist Meditation Foundations is an 8-week program for students of all levels – no pre-requisites or meditation experience required.
Our world is currently flooded with various meditation courses of a secular nature, focusing mainly on "mindfulness" from a Western or New Age perspective. This unique course, however, will guide students through the principles and practice of meditation from a Tibetan Buddhist perspective.
Tibetan Buddhism meditative techniques require a specific set of practices and mind training. These practices will be based on Tibetan Buddhists texts, such as the Lam Rim (The Graduated Path to Enlightenment), which follows 1000-year-old traditions.
Kushok has a wonderful ability to take these deep teachings and distill them into practical steps for the lay practitioner. Students of all levels of practice, including beginners, will gain immense benefit from this training.
Upon completion of this course, you will:
Have an understanding of how to start your own meditation practice
Have an understanding of Mindfulness as a Calm Abiding technique in Tibetan Buddhist practice
Have an understanding of foundational meditation practices within the context of Tibetan Buddhism
Have the confidence to lead informal groups in guided meditation
This course is ideal for:
Teachers and educators
Healthcare professionals
Wellness professionals
Anybody with an interest in learning Buddhist meditation!
This course will be facilitated live in-person and over Zoom. All students will receive access to Zoom recordings.
YOUR INSTRUCTOR: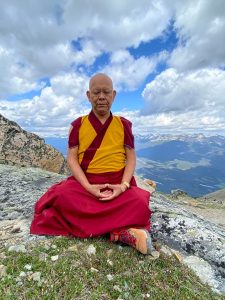 Kushok Lobsang Dhamchöe is the Spiritual Director of Gaden Samten Ling Tibetan Buddhist Meditation Society in Edmonton, AB, Canada. He is a Tibetan Buddhist monk and meditation teacher who studied and served for over 30 years at the personal monastery of His Holiness the 14th Dalai Lama in in Dharamsala, India – Namgyal Tantric College.
Kushok's warm hearted nature and humourous teaching style attracts students from all walks of life. His teachings on mindfulness meditation, calm abiding meditation, vajrayana meditation, Gelugpa Buddhist philosophy, compassion, and secular ethics are always in high demand.
Take advantage of this opportunity to benefit from Kushok's wisdom and experience. To learn more, please read Kushok's full bio.
INVESTMENT:
We are offering this course for $195 or $95 for returning students. This fee includes:
The opportunity to learn from a highly-trained Tibetan Buddhist monk and teacher
8 weeks of live instruction, including Q&A
Lifetime access to class recordings
All required course materials
A Certificate of Completion (PDF)
REGISTRATION DEADLINE:
Please register by Friday, February 24, 2023.
REQUIREMENTS FOR CERTIFICATION:
In order to receive a Certificate of Completion, all students must attend and participate in all 8 classes, whether in-person or online. If a student misses a class, they have the option to watch the video replay in order to fulfill this requirement.
IN-PERSON ATTENDANCE:
This course will be held at the Alberta Centre for Peace and Meditation, 11403-101 Street, Edmonton, AB T5G 2A9. Students are welcome to attend in person or online via Zoom.
VIRTUAL ATTENDANCE:
All registered students will receive the Zoom link to the course, as well as LIFETIME ACCESS to class recordings. Please note that it is not required to be a member in order to receive recordings to this course; Members must be registered in this course to receive recordings, as they will be saved on a separate platform.
VIDEO PRIVACY NOTIFICATION:
We are using Zoom meetings to provide the Teachings and events online. We are recording these Zoom livestream events as videos. We may offer these videos online through our Membership Portal.
If you do not wish to have your face recorded during the Zoom livestream events, please turn off your camera. If you have questions regarding how we are protecting personal information, please see our website at the link below.
Privacy Policy and Notification of Photos and Videos – Gaden Samten Ling Tibetan Buddhist Meditation Society (gsl-ab.ca)

PHOTOS AND VIDEOS:
Please note photos and videos may be taken for promotional purposes. Our Privacy Contact is Andrew Patton, 780-479-0014, [email protected].
HEALTH & SAFETY:
Please note that we will be abiding by the current provincial guidelines regarding masking and physical distancing requirements. If you are feeling unwell, we kindly ask that you attend class virtually and join us in-person when you are not symptomatic.