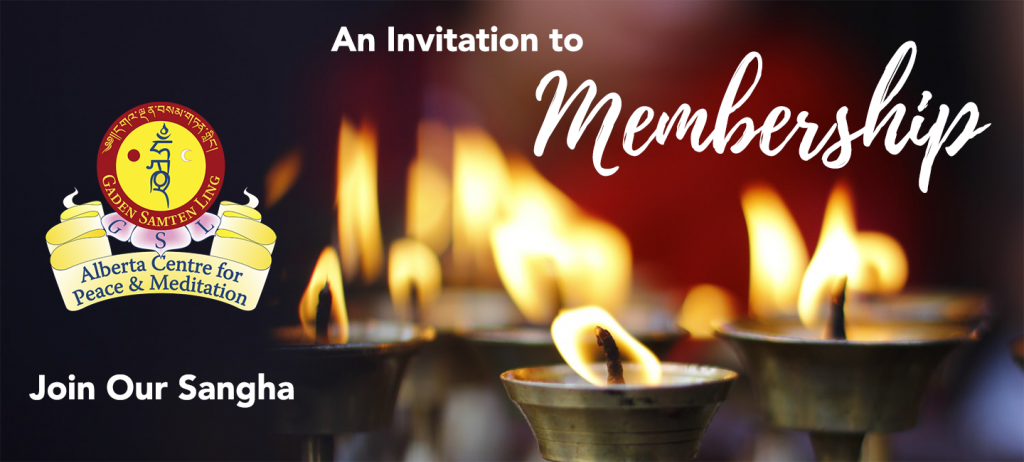 An Invitation to Membership
In the following video, Kushok describes the importance of membership and how we need support each other in the society to build a harmonious community based on love and compassion.
Kushok invites us to consider Society membership as it has many benefits from both a Dharma point of view and a worldly point of view. This session will be an opportunity to learn more about the Society, the benefits of becoming a member, and to ask questions and meet other members. Anyone interested in learning more about membership is welcome to attend.
How Your Membership Supports the Society
Your membership:
Allows us to make the Dharma more broadly accessible
Helps us expand our programs and offerings
Supports the operations of our centre
Helps us in the delivery of special events
Supports our outreach and community support initiatives
The Benefits of Membership
Member benefits include:
A private member portal with links to all member benefits, including PDFs and videos
Access to our Sunday Puja (Deity) Practices (Zoom livestream)
Audio Course: Making Peace With Your Mind (stream or download)
Access to our Video Archive of previous courses and retreats
Access to exclusive member-only events and classes
And much more!
For a full list of member benefits, criteria, and responsibilities, please click here.
* Please note that due to COVID-19 restrictions, our temple is closed to the public and therefore our Dharma Library is closed temporarily. In addition, all courses and retreats will be exclusively online (via Zoom) for the time being.
Applying for Membership
All individuals age 12 or older are welcome to apply for membership regardless of race, national or ethnic origin, gender identity or expression, sexual orientation, cultural background, or disability.

New Applications & Renewals:
All NEW members must sign up at the Lotus level. If you are a current member and would like to change your membership status, you can do so via the link in the member portal.
Complete the online application form. If you prefer, you can complete a paper application and drop it off at our centre during office hours. We accept credit card payments online, and cash or cheque payments at our office.
Go to our CanadaHelps page to set up your monthly donation. Suggested amounts are listed in the table below.
Please Note: All new members must sign up at the Lotus level. Jewel membership is available to members who have been at the Lotus level for at least one year. The Vajra Member category is for existing members invited to that category by our Spiritual Director. Please speak with our Spiritual Director before submitting a Vajra Member application.
Current Members: If you are renewing your membership and would like to update your information, click here.
| | | |
| --- | --- | --- |
| Membership Category | Annual Membership Fee | Suggested Monthly Donation |
| Lotus Member | $60 | $10 – $25 |
| Jewel Member | $90 | $25 – $40 |
| Vajra Member | $120 | $40 – $80 |
The Membership Symbol is a way to reflect member's current status. If you have had a change in membership status or decided not to renew membership, we kindly ask you to return your symbol to the office. Click here to update your membership symbol status.
Dharma Service
The Dharma Service Task Inventory below will enable the Society to find a good fit between members' interests and the help needed to operate the Society.
Please check the checkbox for any task(s) you are interested in. However, this does not mean you or the Society is committed to Dharma Service in that particular area at this time. The applicable Committee Chair will contact you to discuss details of tasks/time schedules, and to offer guidance.
No membership will be denied due to inability to offer Dharma Service. If you have questions, the Society Office will direct them to the applicable Committee Chair. Click the following button to sign up or update your Dharma service task preference.
Privacy Statement
The Society is collecting this information under the Personal Information and Protection Act (Alberta) for the follow purposes: 1) to keep the register of members required under the Societies Act (Alberta) current; 2) to send members notices/other documents required under the Societies Act (Alberta), and the Society's Bylaws and policies; 3) to send members information about programming, and 4) to match members' interests with volunteer opportunities.
Photos/Videos:
Please note that photos and videos may be taken during the Society's activities for promotional purposes. Images may be posted electronically or printed.
Consent to collect Personal Information and Receiving Society emails: By purchasing a membership online, it is our understanding that you are consenting to the society to carry out the following:
Receive email from the society in accordance with CASL. You can withdraw your consent at any time by e-mailing [email protected] with "Unsubscribe" in the subject line.
The collection of personal information for the purposes stated under Privacy Statement
To update your Privacy Statement and Collection of your personal information's consent, click here.
Please email or call the office [email protected], 780-479-0014 if you have questions or concerns with the following:
The collection of photos and videos
The collection of personal information
Receiving society emails