How can Meditation benefit my child?
 The benefits of meditation for children and youth are well established by modern science. They include: reduced anxiety and worry, increased focus and concentration, increased compassion and empathy, increased feelings of well being and calm, increased patience, emotional regulation and inner peace.
Our Program
Our program teaches basic meditation techniques, with a focus on the cultivation of a loving and kind attitude. We base our program on "secular ethics" or aspects of positive character common to all humankind: kindness, compassion, patience, generosity, self control and love.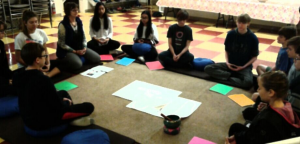 Who can join? 
Everyone is welcome! Our children's meditation courses are open to children of all faiths and backgrounds. No previous meditation experience is required.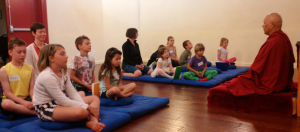 Our Children's Program is co-led by Kushok and Gillian Patton, B.Sc., B.Ed, mother of 3 and long time student of Kushok. The Teen Program is taught by Gillian Patton with guidance and instruction from Kushok.
Mindfulness for Young Children (5-8  years)
Small Hands, Big Hearts: Mindfulness Practices for Cultivating Compassion and Empathy
Mindfulness for Tweens (9-12yrs) - current opening
Waking up Heroes: Mindfulness Practices for Cultivating Compassion, Kindness and Resiliency  
Mindfulness for Teens (13-17yrs)
Breathing Room: Mindfulness Practices for a Calm, Kind and Positive Mind
If every 8-year-old in the world is taught meditation, we will eliminate violence from the world in one generation.