Mind Body Reset: Yoga & Meditation Workshop
Wednesday, June 28, 2023
7:00 PM – 9:00 PM (2 hours)
In-Person
Investment: $25
Are you feeling stressed, overwhelmed, or in need of a holistic recharge? Join us for a transformative 2-hour workshop, "Mind Body Reset," where we will explore the harmonizing power of Yoga and Meditation to rejuvenate your mind, body, and soul.
Designed for all levels of experience, this immersive workshop offers an opportunity for both beginners and seasoned practitioners to deepen their practice and connect with like-minded individuals. Led by our Spiritual Director, Kushok Lobsang Dhamchoe, and Timmie Horvath, RMT, E-RYT, you will be guided through a carefully curated sequence of Yoga postures and calming Meditation techniques to help you release tension, reduce stress, and regain balance in your life.
What to expect:
A gentle, yet invigorating 60-minute Flow Yoga session suitable for all levels
A 20-minute Sound Healing Experience
A 40-minute Meditation class focused on mindfulness and cultivating inner peace, including a guided meditation practice and time for Q&A
Personalized attention and guidance from our experienced instructors, ensuring a safe and comfortable practice for everyone
Don't miss this chance to hit the reset button, nourish your mind, and revitalize your body in a serene and supportive environment. Whether you're a first-timer looking to explore the benefits of yoga and meditation or a seasoned practitioner seeking to deepen your practice, our Mind Body Reset workshop promises to leave you feeling refreshed, centered, and inspired.
Reserve your spot today and embark on a journey of self-discovery, relaxation, and personal growth.
INVESTMENT:
The course fee is $25 CAD. Click here to register.
It is Gaden Samten Ling's policy that no one should be turned away due to lack of funds. If you feel you would benefit from this course but are unable to register for financial reasons, please contact Gillian at [email protected].
Refund Policy: An individual may receive a refund, less a $15 administration fee, if they request the refund from the Society Office by email, before 2:00 PM the day after the first class.
ABOUT YOUR INSTRUCTORS: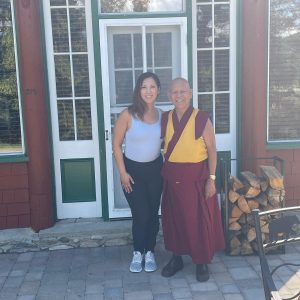 Kushok Lobsang Dhamchöe is the Spiritual Director of Gaden Samten Ling Tibetan Buddhist Meditation Society in Edmonton, AB, Canada. He is a Tibetan Buddhist monk and meditation teacher who studied and served for over 30 years at the personal monastery of His Holiness the 14th Dalai Lama in in Dharamsala, India – Namgyal Tantric College.
Kushok's warm hearted nature and humourous teaching style attracts students from all walks of life. His teachings on mindfulness meditation, calm abiding meditation, vajrayana meditation, Gelugpa Buddhist philosophy, compassion, and secular ethics are always in high demand.
Take advantage of this opportunity to benefit from Kushok's wisdom and experience. To learn more, please read Kushok's full bio.
Timmie Horvath, RMT, E-RYT, is an Experienced Registered Yoga Teacher who has taught Yoga and Fitness classes to people of all walks of life since 2009. As a Registered Massage Therapist and Reiki Teacher, she has an extensive range of expertise and a comprehensive understanding of both physical anatomy and the intricacies of energetic anatomy. Click here to view Timmie Horvath's teacher profile on Yoga Alliance.
REGISTRATION DEADLINE:
Please register by Wednesday, May 24.
IN-PERSON ATTENDANCE:
This course will be held at the Alberta Centre for Peace and Meditation, 11403-101 Street, Edmonton, AB T5G 2A9.
PHOTOS AND VIDEOS:
Please note photos and videos may be taken for promotional purposes. Our Privacy Contact is Andrew Patton, 780-479-0014, [email protected].
HEALTH & SAFETY:
Please note that we will be abiding by the current provincial guidelines regarding masking and physical distancing requirements. If you are feeling unwell, we kindly ask that you attend class virtually and join us in-person when you are not symptomatic.