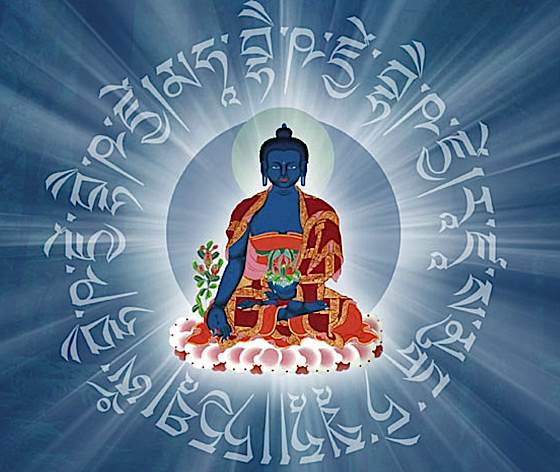 Saturday, June 26, 2021
11:00 AM – 1:00 PM MDT
Via Zoom Livestream
Dear members and friends of Gaden Samten Ling;
We are very happy to announce that Spiritual Director Kushok Lobsang Dhamchöe will be offering an online Medicine Buddha Empowerment (Initiation) on Saturday, June 26, from 11:00 PM MST – 1:00 PM MST, via Zoom livestream.
The Medicine Buddha, attainer of bliss, strongly prayed for the temporal and ultimate happiness all sentient beings. He vowed that his prayers would be actualized during these degenerate times. We believe that if you pray to Medicine Buddha you will quickly accomplish all that you wish and receive blessings and protection from the COVID-19 pandemic which continues to cause misery and disruption to our lives.
An empowerment (initiation) is a ceremony where the initiation master, based on his own realization gained in retreat, transmits the connection to the deity and gives us permission to engage in regular meditation practice on this deity. It creates a bridge between us, the teacher and the deity, introducing us to the true nature Medicine Buddha and allowing us to receive the full blessings of engaging in this meditation practice.
Target Audience
Anyone interested in developing or strengthening their connection to Medicine Buddha, and to receive blessings and protection from the Guru.
Empowerment Details
Saturday, June 26, 2021
11:00 AM – 1:00 PM
Via Zoom Livestream
Empowerment Fee
Your investment for this empowerment is $35. It is Gaden Samten Ling's policy that no one will be turned away due to lack of funds. If you would like to attend the retreat but are unable to register, please contact Gillian at [email protected]

Registration Deadline
To ensure you receive the Retreat Zoom link prior to the start of the retreat, please register by Thursday, June 24. The retreat link will be emailed Friday, June 25.
To register for the Medicine Buddha Empowerment: Click "Register Now!" button above.
Should you require any assistance connecting, please contact [email protected] We would be happy to help you!
In effort to protect the privacy of participants and the security and integrity of our online courses and retreats, we ask that you kindly refrain from sharing any links.
Also, in an effort to maintain the atmosphere of the shrine room and to reduce distraction from the teachings, Kushok requests that the chat option in Zoom be limited to directing questions to the host. Participants will have opportunities to ask Kushok questions at the end of each class. Kushok also requests that attendees please identify themselves by providing their name when they register and turning on their video where available. This allows him to see who is attending and to feel connected to his audience.
Video Privacy Notification
Due to the COVID-19 pandemic we are using Zoom meetings to provide the Teachings online. We are recording these zoom meetings as videos. We may offer these videos online through our website.
If you do not wish to have your face recorded during the zoom meetings please turn off your camera. If you have questions regarding how we are protecting personal information please see our website at the link below.
Privacy Policy and Notification of Photos and Videos – Gaden Samten Ling Tibetan Buddhist Meditation Society (gsl-ab.ca)
Refund Policy
An individual may receive a refund of the empowerment fee, less a $10 administration fee, if they request the refund from the Society Office by telephone or email, before 12:00 noon 2 days before the event starts.
A gentle reminder that the Centre is currently closed to in-person attendance beyond our technology and office volunteers. Please do not come to the Centre at this time.
Thank you for your patience as we adjust to this new format and for your continued support of Gaden Samten Ling. We look very forward to seeing you online!
Kind Regards,
Office Team
Gaden Samten Ling Tibetan Buddhist Meditation Society
11403 101 Street, Edmonton, AB T5G 2A9
[email protected]
www.gsl-ab.ca