Join us in Jasper in 2022
Gaden Samten Ling Tibetan Buddhist Meditation Society presents a 7 day Meditation Retreat with the Society's Spiritual Director, Kushok Lobsang Dhamchöe & Yoga Teacher Timmie Horvath, RMT, E-RYT.
The luxurious Fairmont Jasper Park Lodge Resort is the idyllic backdrop to relax and rejuvenate with yoga, guided meditation, and teachings on mindfulness and healing. Amidst the rugged Canadian Rockies there are endless opportunities for peaceful contemplation or indulging your adventurous spirit. Play on one of Canada's premiere golf courses, enjoy a healing spa treatment, or hike one of Jasper's many beautiful trails, the choice is yours.
Schedule
7:00 – 8:00 am Yoga class
8:15 – 9:15 am Breakfast
9:15 – 10:30 am Guided Mindfulness Meditation
10:45 am – 12:00 pm Buddhist Philosophy Teachings
12:00 – 1:00 pm Lunch
Afternoons and most evenings are free to allow participants to explore the Resort and the Jasper area. Please note that the schedule is subject to change.
Jasper Park Lodge Amenities
Some of the amenities this 4-star luxury resort offers at an additional cost:
On-site dining options
Boat House
Fireside chats
Jasper Park Lodge Golf Club (20% off for retreat participants)
The Spa at Jasper Park Lodge
The Planetarium at JPL
Jasper Park Stables
As well as a variety of on-site shopping
Please visit the Fairmont Jasper Park Lodge website to make reservations as bookings for activities fill up quickly. For more activities in Jasper National Park visit www.jasper.travel
Buddha was asked, "What have you gained from meditation?" He replied, "Nothing. However, let me tell you what I lost: Anger, Anxiety, Depression, Insecurity, Fear of old age and death".
Presenters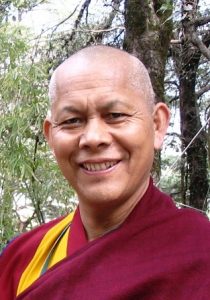 Kushok Lobsang Dhamchöe
Kushok Lobsang Dhamchöe is the Spiritual Director of Gaden Samten Ling Tibetan Buddhist Meditation Society in Edmonton, AB, Canada. He is a Tibetan Buddhist monk and meditation teacher who studied and served for over 30 years at the personal monastery of His Holiness the 14th Dalai Lama in Dharamsala, India. Kushok's warm hearted nature and humourous teaching style attracts students from all walks of life. His teachings on meditation and Buddhist philosophy are always in high demand. Take advantage of this opportunity to benefit from Kushok's wisdom and experience. To learn more, please read Kushok's full bio.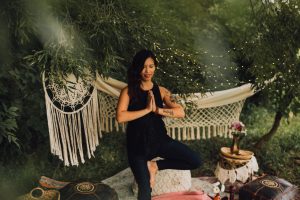 Timmie Horvath, RMT, E-RYT
Timmie Horvath, RMT, E-RYT, is a Registered Yoga Teacher and a Pilates & Fitness Instructor with over 12 years of teaching experience. Her classes are fun, functional, and accessible to practitioners of all levels. She is also a Registered Massage Therapist and Reiki Master Teacher, and has been a student of Kushok since 2009. You can learn more about Timmie at her website, and on Facebook and Instagram @sacredwellness.co.
Retreat Fee
Early Bird registration:
Per Person – single occupancy $5000
Per Person – shared occupancy $4000

Registration after Jan 1, 2022 is $5500 single; $4500 shared
What's Included
6 nights accommodation at the Fairmont Jasper Park Lodge Resort
Monday, August 22nd to Sunday, August 28th, 2022.
6 Breakfasts and 6 Lunches
Welcome/Orientation Dinner Monday, August 22rd
Farewell/Celebration Dinner Saturday, August 27th
Yoga, Meditation, and Buddhist Philosophy classes
What's Not Included
Meals (other than those listed above)
Personal expenses
Transportation
Resort activity bookings
Payment Schedule
Deposit: $500 (non-refundable), due at registration
Second Payment: $2000 Due December 31, 2021
Final Payment Due May 31, 2022 (no refunds after this date)
Registration deadline: June 30, 2022
Reserve Your Spot
Deposit: Non-refundable $500
Second Payment: $2000 (Due Dec. 31, 2021) Not refundable after May 31, 2022
Last payment – Due May 31, 2022 (No refunds after this date):
For Single occupancy: $2500 (Registered before Dec 31, 2021)

For double occupancy: $1500 (Registered before Dec 31, 2021)
For more information, please contact Jeremy Berg by phone at (587) 982-2555 or email at [email protected]
Please Share: www.luxurymeditationretreat.com